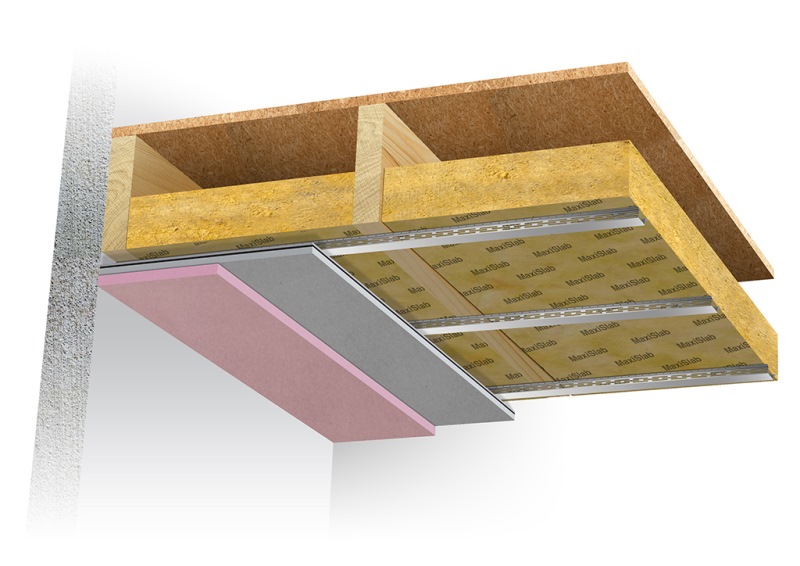 The Maxi 60 Ceiling System from Sound Reduction Systems provides an ideal way to upgrade acoustic insulation in ceilings while providing 60 minutes of assured fire protection.
Easy to install beneath the timber joists with minimal loss of room space thanks to its thickness of just over 60mm, Maxi 60 Ceiling provides a retrofit or new build solution to resolve or prevent noisy neighbour issues without compromising fire safety. Specified and installed correctly, it is highly effective in improving both impact and airborne sound insulation performance.
The Maxi 60 acoustic ceiling system is fully tested and approved to provide one-hour fire protection in line with BS 476: Part 6: 1989 class 0 (fire propagation) and BS 476: Part 7: 1989 class 1 (surface spread of flame). It is suitable for meeting goals under Approved Document E of the Building Regulations, without the need for additional floor treatments and is effective for domestic, commercial and industrial environments.
Full design and specification advice and installation guidance is provided by Sound Reduction Systems to deliver the right result. As a complete system, Maxi 60 Ceiling works by combining Sound Reduction Systems' proven insulation materials and ancillaries to provide a single source dependable solution.
Key products and components within Maxi 60 include Maxislab, a semi-rigid, resilient, non-combustible, mineral wool product which is 100mm thick and friction fitted between the joists serving as acoustic floor insulation. This is combined with SRS Maxi Resilient Bars, fixed to span the timber joists across the full width of the ceiling, and Maxiboard. This is an extremely high performance and versatile acoustic building board which dramatically increases the acoustic performance of walls and soundproofing ceilings.
Installed using SRS Maxi Screws, SRS Gripfix and SRS Acoustic Sealant where Maxiboard panels adjoin a perimeter wall, the Maxi 60 acoustic ceiling system is finished with 15mm fire-rated plasterboards which are fixed through the Maxiboard and into the Maxi Resilient Bars using 50mm drywall screws.
To find out more about the Maxi 60 Ceiling system call 01204 380074 or visit www.soundreduction.co.uk.