Home Soundproofing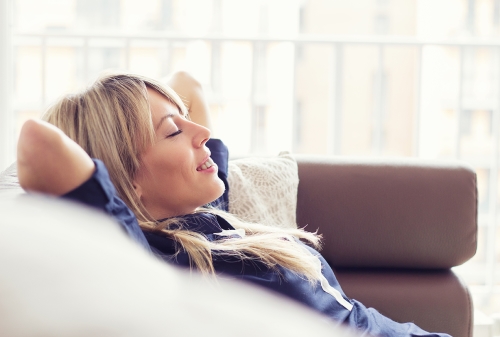 The most common kind of noise problem in the domestic sector is unwanted sound coming through a separating wall or floor/ceiling construction from a neighbouring property. At best this kind of noise problem will cause annoyance and ruin the enjoyment of the property but in extreme cases it can lead to stress, the deterioration of neighbour relationships, and health issues. Our range of domestic soundproofing products can assist with noisy neighbour problems and have a versatile range of high performance home soundproofing products to suit all domestic situations.
Firstly, a few words of warning! - Please be careful when researching acoustic products online as there are various ways of rating sound insulation performance and it is important to compare like for like. Laboratory measurements and ratings of sound insulation performance, taken under ideal conditions, will always give an apparently better result than measurements taken on site in the 'real world'. The overall performance given by any home soundproofing products will depend on site conditions and installation standards.
If in any doubt about information presented to you, and how it stacks up against our Maxiboard soundproofing boards please give us a call on 01204 380074 and we'll be delighted to talk you through it. We're committed to recommending the most practical product to treat your acoustic problem and can help describe how it is likely to perform compared with other products on the market. We are completely transparent with the sound insulation data that we have for our systems. Be careful online - Always ask for substantiaton of acoustic performance from potential suppliers.
Noise through walls
To improve the sound insulation performance of masonry wall constructions, and therefore reduce the amount of noise coming through from the adjoining property, SRS recommend Maxiboard. Maxiboard is a 17mm thick, composite acoustic building board that offers maximum improvement but minimizes the loss of room space. The composite construction of the Maxiboard utilizes constrained layer damping which gives improved low frequency performance over conventional building products such as plasterboard.
The most common method of installation of residential soundproofing is onto masonry party/separating walls using our Maxi Resilient Bars. Typically, the 30mm deep Maxi Resilient Bars are installed horizontally across the wall at 600mm centres and then 25mm Maxi Slab insulation is placed in between the bars to provide a home soundproofing layer. 17mm Maxiboard is then screw fixed to the face of the Maxi Resilient Bars using 3.9mm x 30mm Maxi Screws and then a layer of plasterboard is fitted over the Maxiboard. The plasterboard can then be finished and decorated to match the existing room. In total, using this method of soundproofing walls, the loss of room space is generally around 60mm and the improvement achieved around 10dB, which represents a halving of the subjective loudness of the noise.
if you are troubled with high levels of unwanted noise and greater domestic soundproofing performance is required, and a thicker soundproofing system is acceptible we recommend the use of our Maxiboard Independent Wall Lining system. This uses a 50mm deep metal studwork to independent mount the Maxiboard so that it doesn't touch the existing masonry or brick wall. The total thickness of the system is around 90mm and typical performance is an improvement is an impressive 17dB compared with the untreated wall. This system is great to reduce noise from neighbours, especially low frequecies which traditional materials find very difficult to attenuate.
Reducing Unwanted Noise Through Floors and Ceilings – Residential Soundproofing
If the requirement is to reduce impact sound travelling to the apartment/flat below then the best solution is to use an acoustic flooring product beneath the floor finish.
Our most popular acoustic flooring product for use within domestic soundproofing projects is Acoustilay 15. This is a 15mm thick proprietary underlay system that can help with both impact and airborne sound insulation performance. Acoustilay is typically installed onto floorboards and then a hessian backed carpet or engineered floor finish is installed over the top of it. Should a vinyl, carpet tile, or laminate floor finish be required then we recommend using a layer of Acoustilay T&G MDF between the Acoustilay and the floor finish to add stability. For full installation guidance please see the relevant datasheet.
Three grades of Acoustilay are available to suit different domestic soundproofing requirements. Acoustilay 3, 8, and 15. The number in the name of the product refers to the weight of the product in kilograms per m2. As a rule of thumb, on timber substrates, the heavier the acoustic flooring product used, the greater the level of improvement with respect to airborne sound insulation performance.
If the main concern is airborne sound insulation performance and no access is available within the property below then we would recommend our Maxideck acoustic flooring board as the floor treatment. Maxideck is 28mm thick, so is thicker than Acoustilay 15, but the product is of higher mass/weight at 27kg/m2 and therefore offers increased airborne sound insulation performance.
Noise through floors and ceilings – Ceiling Soundproofing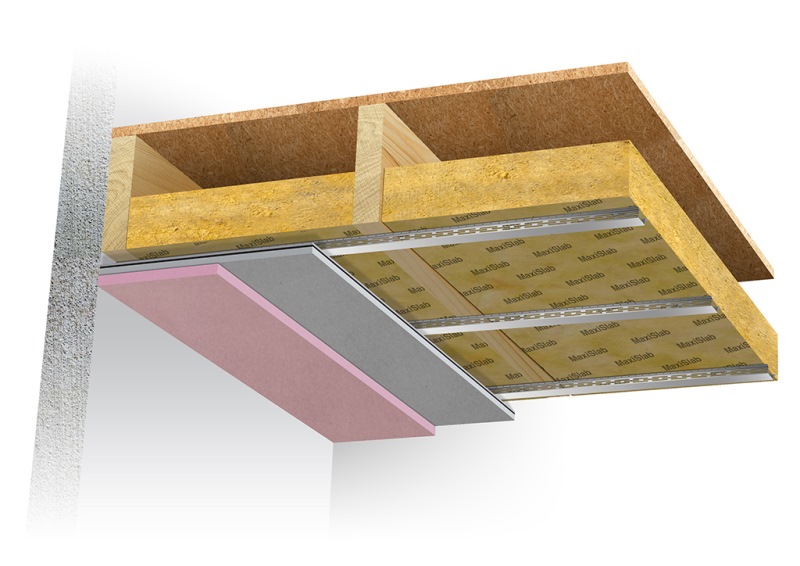 For improving the sound insulation performance of ceilings we recommend our Maxiboard acoustic building board. A ceiling treatment is always the best solution to reduce airborne sound transmission between flats as it allows the use of acoustic isolation products to decouple the ceiling linings from the structure above.
The method of Maxiboard installation depends on whether the existing ceiling is being removed or retained, and what the existing construction is, but there are only ever 4 or 5 components involved, making the installation method straightforward and the performance of the system as robust as possible.
Typically, with ceiling below the joists removed, the installation of a Maxiboard ceiling involves friction fitting 100mm Maxi Slab insulation between the joists, Maxi Resilient Bars at 300mm centres below the joists, screw fixing a layer of Maxiboard to the Maxi Resilient Bars, and then over-boarding with a layer of 12.5mm fire-rated plasterboard. The plasterboard can then be finished and decorated in the conventional manner so the appearance is that which you would expect within the home.
When installed in this manner the Maxi 60 ceiling, as it is known, offers a 1 hour fire rating and should meet the requirements of Part E of the Building Regulations. All this with only a 60mm thickness from the underside of the joists – keeping the loss of floor to ceiling height to the bare minimum. If access is possible above the floor then teaming Acoustilay 8 with the Maxi 60 Ceiling will give a further enhanced performance.
If the ceiling is being retained, to save the mess of removing the existing ceiling, then we would recommend our Maxi Dropped Ceiling System
Full details and installation guidance can be accessed by accessing individual product datasheets which are available for download.
Specialist Home Soundproofing
Reducing unwanted noise can help you to enjoy your home more. We can help you improve the acoustic performance of different rooms in your home including:
Talk to us today to find out more about our full service.
Expert Home Soundproofing advice
If you have a domestic noise problem SRS would be delighted to assist with free advice. Our 25 years of experience and qualifications in the field of acoustics mean that you'll get accurate, practical advice on how to use our products to your advantage. Give us a call on 01204 380074, send us an email at info@soundreduction.co.uk or fill in the enquiry form at the foot of the page.