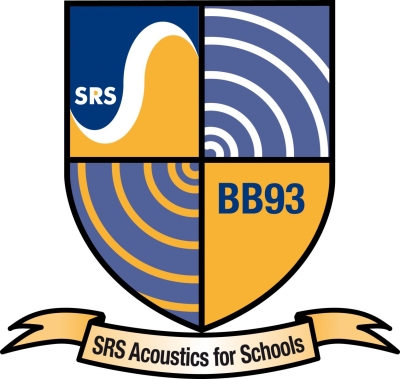 By Richard Sherwood MIOA
Good acoustic design and specification within schools is important for both pupils and teachers alike.
Scientific studies on the effect that noise has on the ability of pupils to learn have time and time again shown that pupils taught in rooms with quiet rooms with good acoustics learn and behave better than noisy rooms with poor acoustics. There is a wealth of evidence that poor acoustics affect a child's ability to show that external and internal noise affects children's performance in literary, numeracy, and memory tasks with children with special educational needs especially affected. Good acoustic design can be used to reduce these effects.
The effect on noise on teachers is equally a concern. Put simply, to learn effectively the children need to be able hear the teacher speak during lessons. If the teacher has to repeatedly raise their voice to be heard then they run the risk of damaging their vocal chords and causing harm to their health. One case in 2010 lead to a teacher who lost her voice taking the council to an employment tribunal for personal injury and receiving £150,000 in compensation. Few would argue that a noise free, comfortable teaching environment would lead to reduced voice effort and fewer teacher absences due to stress related illnesses.
Such is the importance of good acoustics within schools, this year's Noise Action Week, organised by Environmental Protection UK (EPUK and sponsored by the Institute of Acoustics, focused its attentions on raising the awareness of the impacts on excessive noise on both teaching and learning.
Building Bulletin 93 (BB93) is the document that gives acoustic design guidance for new schools and this is incorporated into section E4 of Building Regulations Part E. BB93 sets out minimum standards of sound insulation, maximum levels of internal noise, and reverberation time targets for every kind of room found within a school. Although these targets do not apply retrospectively to existing schools, BB93 also provides a comprehensive design guide for remedial and refurbishment projects.
Airborne Sound Insulation – Building Acoustics
Airborne sound is generated typically from sources such as voices and music and travels through the air into the structure of a building, and out again into adjoining rooms. Teaching and learning can be noisy activities, particularly in the case of music classrooms or areas where children are encouraged to work in groups and need to communicate. However, teaching and learning are also very sensitive to noise which can quickly distract children and increase teacher workload.
BB93 rates each room in terms of its sensitivity to noise and the level of noise that activity within the room will generate. With this information it is then possible to calculate the level of airborne sound insulation performance of a partition or floor that separates two rooms of a particular kind, with more sensitive or noisy areas requiring higher sound insulation performance. For example to prevent disturbance a partition that separated an English classroom from a maths classroom does not require as much performance as a music classroom adjacent to a library or quiet area.
Maxiboard acoustic building board manufactured by Sound Reduction Systems Ltd can be used as a lining for soundproofing walls and ceilings to ensure that the separating structures meet the required level of separation between rooms within schools. At 17mm thick, Maxiboard maximises acoustic performance whilst minimising the loss of room space or head height.
Impact Sound Insulation – Building Acoustics
Impact sound is generated by footfall across a floor or furniture being moved in rooms above and is particularly apparent in rooms used for drama and at times when lessons change and students move around.
The most effective way to reduce impact noise through any floor structure is to include a resilient layer either beneath the concrete screed or beneath the floor finishes to create a floating floor.
SRS Acoustilay is the market leading proprietary acoustic underlay system and is ideal for reducing impact noise through floors of any kind. Rated at 43dB ΔLw, Acoustilay can be used to reduce the transmission of footfall and chairs scraping across the floor to rooms below. In non-domestic applications SRS recommend that Acoustilay is bonded to the sub-floor and overlaid with a 9mm layer of tongued and grooved MDF. The top surface of the MDF is then ready to receive a variety of floor finishes.
Sound Absorption – Room Acoustics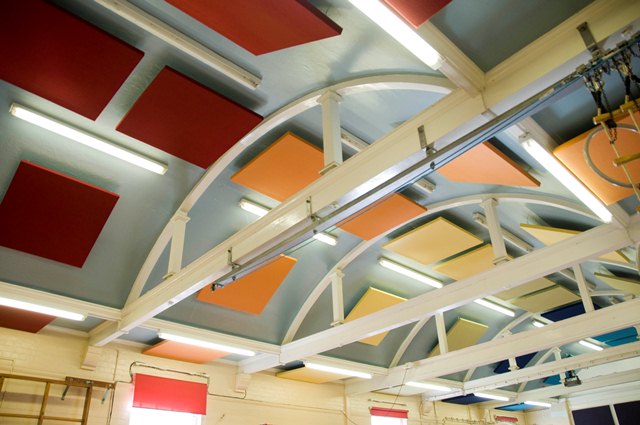 Subjectively we assess poor room acoustics by noticing the persistence of sound with a room after the noise source has ceased to exist. Objectively we can measure this persistence as a reverberation time, in seconds, with a high reverberation time indicating a lively room and a low reverberation time indicating a dry or dead room. Reverberation time is influenced by a number of factors such as the volume of the room and the area and kind of surface finishes that are present within.
Reverberation problems exist within many existing school halls. Typically, school halls, especially within primary schools, are used for everything from dining and assemblies to PE and activities that involve speech, singing and the reproduction of music. They are large spaces with high ceilings and hard wearing, acoustically reflective floors leading to high reverberation times, especially within the frequencies of sound present within speech. The reverberant energy within the hall often lifts the overall noise level considerably especially at lunchtime when the children are in the hall and compete to be heard over the background noise. This situation exposes both children and staff, such as lunchtime supervisors, to excessive levels of noise and often contravenes Noise at Work regulations. The solution to this kind of problem is to introduce acoustic absorption within the hall. SRS offer an aesthetically pleasing fabric wrapped and mineral fibre free soundproofing range called Sonata that can be suspended from the ceiling and secured to the walls at high level. Using software it is possible to acoustically model a given space and calculate the area of absorption that is required to meet the required reverberation time of 0.8-1.2s Tmf as required in BB93.
Sound Reduction Systems (SRS) has a long history of supplying high performance sound insulation and sound absorptions products used for school acoustics. Recent examples are below:
Full details on the products and specifications that SRS offer can be found at www.soundreduction.co.uk
Richard Sherwood BSc (hons) MIOA is a graduate of the University of Salford's Acoustics Department and Technical Manager of Sound Reduction Systems Ltd. Email him at richard@soundreduction.co.uk