Education
Sound Reduction Systems Ltd (SRS) manufacture a range of high performance acoustic products that have a successful history of use within schools, colleges, and other educational establishments. We appreciate that both teaching and learning are both acoustically demanding activities and can advise the most practical way to create the perfect environment for both activities.
The main problems with school acoustics that we come across are:
Excessive reverberation within rooms – This is usually caused by rooms containing large areas of acoustically reflective surfaces such as vinyl or timber flooring, masonry or plastered walls, and concrete or plasterboard ceilings. Excessive reverberation can reduce speech intelligibility leading to pupils struggling to understand what is being said and often results in teachers having to increase vocal effort to be heard, causing strain and stress. Excessive reverberation affects children with special educational needs (SEN) and hearing impairments disproportionately so needs to be controlled to maximise inclusion within mainstream schools.
To keep the reverberation time down within classrooms we recommend our Sonata range of Class A, mineral fibre free sound absorption products. Our most popular acoustic absorption product for use on walls and ceilings are the Sonata Aurio and Sonata Vario acoustic panels. Sonata Aurio Acoustic Panels are simply bonded to wall and ceiling surfaces, whilst the Sonata Vario acoustic panel can be suspended using proprietary fixings and wall mounting brackets. The absorptive area of acoustic panels required varies from room to room depending on its use. For a quick, free estimate and specification please fill in our 3-Step-Estimator at the bottom of this page.
Airborne sound insulation – Airborne noise within schools usually takes the form of speech but can also be from music and performing arts departments. Teaching and learning can be noisy activities particularly in the case of music classrooms and areas where children are encouraged to perform or work in groups and need to communicate. The key aim of airborne sound insulation performance within schools is to minimise disturbance between adjacent teaching areas when in use simultaneously.
Our most popular products to improve airborne sound insulation between rooms within schools are Maxiboard for walls and ceilings, Soundblocker for lay-in type suspended ceilings, and our vertical cavity barriers Soundstop and Soundbar for suspended ceiling voids.
Impact sound insulation – Impact noise sources are generally footfall, the movement of furniture and objects being dropped onto the floor. This can be a problem for school acoustics where rooms used for dance and drama are located above general classrooms and when lessons change and pupils move around.
Impact noise is best treated at source using a resilient covering on the floor. Our best performing product for impact noise is Acoustilay, typically bonded to the substrate with a layer of 9mm T&G MDF bonded to the top surface of the Acoustilay, ready to accept a vinyl or carpet tile floor finish.
Additional performance can also be achieved by teaming the floor treatment with a ceiling treatment such as our Maxiboard and Soundblocker products.
Ambient noise levels – Ambient noise can come from a variety of sources including reverberant noise due to the presence of hard surface finishes, environmental noise from outside breaking into the room, and rain noise from profiled metal roofing above.
To reduce rain noise ingress and improve school acoustics, SRS recommend Raincheck adhered directly to the underside of the metal roof profile. In addition Soundblocker tiles can be used to upgrade suspended ceilings to further reduce the transmission of rain noise into rooms below.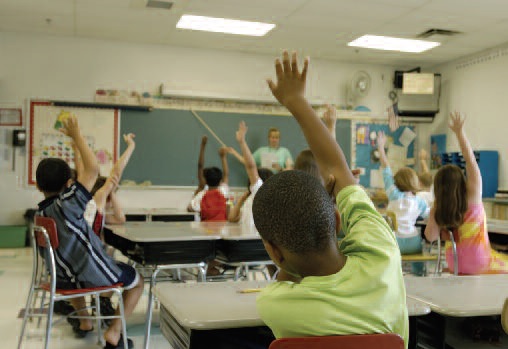 SRS are not only experts on treating noise problems in existing school buildings but are also experts on meeting building regulations. The document that covers the acoustic design of schools is Building Bulletin 93 (BB93) from Section E4 of Building Regulations Part E.
The main aim of the document is to ensure that the design and construction of school buildings provide acoustic conditions that enable effective teaching and learning.
The latest version of BB93 was updated in February 2015 and now includes recommended performance standards for material change of use and refurbishment as well as new build schools.
In particular, BB93 offers guidance on the following core areas:
Target internal ambient noise levels for teaching areas
Minimum sound insulation performance values between adjacent spaces
Target reverberation times suitable for the use of rooms
SRS' guide to BB93 can be downloaded using the link here: SRS Acoustics for Schools. This is intended to be an introduction to the aims of BB93, illustrating how each target can be met using our products and demonstrating example constructions and installations.
THE SRS SCHOOLS PLEDGE: "FREE ACOUSTIC ADVICE, DESIGN AND SPECIFICATIONS FOR ALL UK SCHOOLS."
Sound Reduction Systems offer their industry leading knowledge and experience free of charge to help guide you to the best solution for your school, whether it is for BB93 compliance or just to improve the acoustics within your teaching environment. For your free consultation, please call 01204 380 074, e-mail info@soundreduction.co.uk