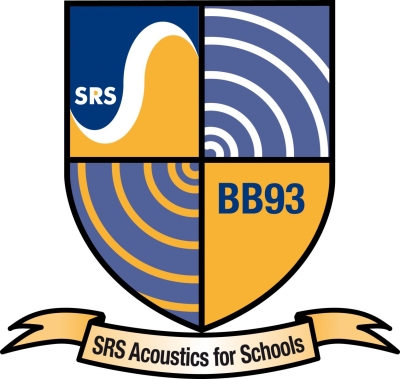 Sound Reduction Systems Ltd (SRS Ltd) are proud to launch their new 'Acoustics for Schools' initiative. The main thrust of the scheme will see acoustic specialists, SRS Ltd, launch their new 'BB93 & Acoustics Within The Educational Environment' guide whilst offering all UK schools and the specifiers and contractors working on them FREE OF CHARGE evaluations, guidance and specifications to ensure that the school meets all the acoustic standards set out in BB93, as well as the needs of its staff and students.
Many schools in the UK suffer from poor room acoustics due to the acoustically reflective surfaces traditionally found within the learning environment. This leads to a great deal of reverberation and echo which creates poor speech intelligibility - an environment like this has a detrimental effect on both teaching and learning.
SRS Ltd have a new and unique range of acoustic absorbers that can be used to control school acoustics, from large gymnasiums and canteens to small classrooms and media suites. The Sonata range of products offers extremely high levels of performance but does not compromise design, with various shapes, colours and finishes available. Unlike many traditional, mineral fibre based products, Sonata products are manufactured using innovative acoustic foams that are completely non-fibrous and perfectly safe to install during term time.
There are also significant problems with noise disturbance from adjoining classrooms, halls and corridors. Often, walls and ceilings are particularly lightweight and a simple application of an acoustic product can make a significant difference.
For example, in order to achieve decent soundproofing for walls and ceilings they can be lined with Maxiboard – a high performance acoustic building board, designed to be used like standard plasterboard but with far greater acoustic performance. SRS Ltd also have a range of acoustic ceiling tiles, SoundBlocker, which can be used to increase the acoustic performance of lightweight suspended ceilings, as cross-talk between classrooms with these types of ceilings installed is often a problem area.
In short SRS Ltd has the knowledge, expertise and practical solutions to deal with just about any sound insulation issue within the educational environment and are happy to help our schools out in any way they can.