Reverberation Solutions
Large spaces such as school halls, dining halls, sports halls etc. can suffer from problems due to excessive reverberation, and even some times echo, during use.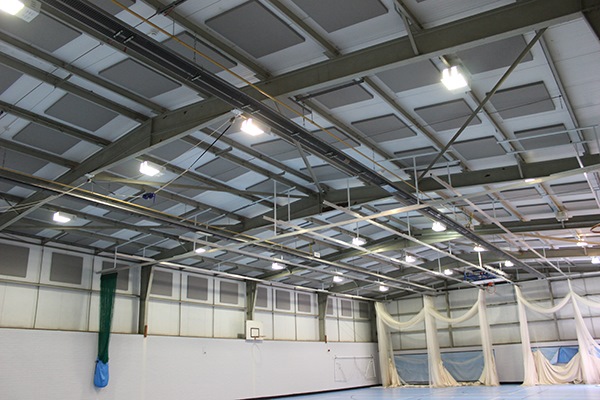 Unsuitable acoustics can lead to a room being unfit for purpose, resulting in poor speech intelligibility and users having to raise voice effort to be heard over the reverberant noise.
The main reason for excessive reverberation is that spaces such as school halls, church halls, scout huts etc often contain predominantly hard and acoustically reflective surfaces and lack soft, acoustically absorbent surfaces, usually for reasons of hygiene and practicality.
Everyday absorbers of sound such as curtains, carpets, and upholstered furniture would not be fit for purpose in such environments and therefore a proprietary solution is required to solve the problematic room acoustics.
The solution - Sonata Class A acoustic panels from SRS. These are high quality fabric wrapped, mineral fibre-free acoustic panels that can be installed as sound absorption solutions to absorb sound and reduce noise and reverberation during use. Our most popular sound absorption products for use in large reverberant spaces are Sonata Aurio Acoustic Panels, Sonata Vario, and Sonata Memo panels.
Information on our fantastic range of sonata acoustic absorption products can be found using the links below. For a full online gallery of our sound absorption work please see our Flickr page here: Flickr Gallery. If you would like a specification, report and quotation for your reverberant room please fill in our 3 step Estimator.