Architects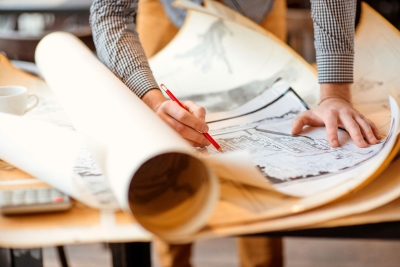 At SRS we like to make the specification of our high performance acoustic products as easy and as quick as possible. That's why we try and make it as easy as possible to access information on our products and systems online, and have an Institute of Acoustics registered technical team on hand to answer any questions that you may have.
SRS manufacture composite acoustic products for floors, walls and ceilings that offer maximum acoustic performance in as little build up as possible. We have developed specifications that use our high performance acoustic products in a very simple way and don't rely on complicated installation methods like some conventional acoustic materials. This means maximum performance and reliability, or 'robustness'.
Our most popular products for domestic and residential projects, specified by architects time and time again, are Acoustilay, our acoustic flooring underlay system, and Maxiboard, our acoustic building board for walls and ceilings.
Typically for domestic projects the most popular acoustic ceiling specification is our are Maxi 60 Ceiling System. This uses our Maxiboard composite acoustic building board on resilient bars, Maxi Slab in between the joists, and a finishing layer of 15mm fire rated plasterboard over the Maxiboard.
The Maxi 60 Ceiling System has been demonstrated to meet Part E of the Building Regulations, even with no resilient covering on the floor above, and offers 60 minutes fire resistance. All this performance is packed into a thin system that is just over 60mm in thickness from the underside of the joists. For further information please see the Maxiboard for Ceilings page.
All of our systems have been independently tested either in the laboratory or on-site by independent acoustic consultants and are backed up with full installation guidance and datasheets.
We are specialists in a broad range of building regulations including Part E (England and Wales), Building Bulletin 93 (Acoustic Design of Schools), HTM 08-01 (Healthcare), Technical Handbook Section 5 (Scotland), and Technical Booklet G (Northern Ireland).
We can also advise on specifications to gain credits under the Code for Sustainable Homes scheme where sound insulation performance above the requirements of Part E of the Building Regulations is rewarded.
Within schools the most common problem that we come across is excessive reverberation in classrooms, multi-purpose halls, dining rooms, and sports halls. For this our suggested treatment is our Sonata acoustic panels for soundproofing walls and ceilings. SRS work closely with specifiers on projects of this kind to ensure that the client is satisfied not only with the improvement in the acoustics but also how the panels look aesthetically. We have worked on both new build schools to ensure compliance with BB93 and also refurbishments where noise issues exist.
SRS offer architects and specifiers a free lunchtime CPD presentation on 'Noise and its Control'. The focus of the talk is mainly domestic noise and Part E of the building regulations but many of the topics discussed can be applied to other sectors. We'll even pick up the tab for the sandwiches if 5 attendees or more can be guaranteed. If you are interested in learning more about the SRS CPD presentation please email us at cpd@soundreduction.co.uk.
Our Institute of Acoustics registered technical department are on hand to quickly advise on your next project. Please give us a call on 01204 380074 or email to info@soundreduction.co.uk for a quick and helpful response.