Garage Soundproofing
More and more people are working from home, often in their garage, and need some form of soundproofing. Of course, garages are also increasingly being used for music practice and recording, as home cinemas or as an extra family room. But noise reduction and soundproofing can mean lost space, and garages are already fairly narrow rooms.
High-performance garage soundproofing
Luckily, Sound Reduction Systems (SRS) has a great solution for garage soundproofing. It's called Maxiboard for walls and it's a high-performance acoustic building board that can soundproof your garage without compromising the available space. Maxiboard for soundproofing walls creates a semi-independent, soundproof shell in your garage that contains internal noise and excludes external noise.
The excellent noise reduction and soundproofing with Maxiboard for walls is achieved by fixing resilient bars to the existing walls of your garage. This isolates it from the existing structure, creating a suspension system that reduces the amount of noise passing from one side to the other. Maxiboard for walls can also be used to soundproof your garage door and windows, by fixing the Maxiboard to a simple timber support structure.
Soundproof your garage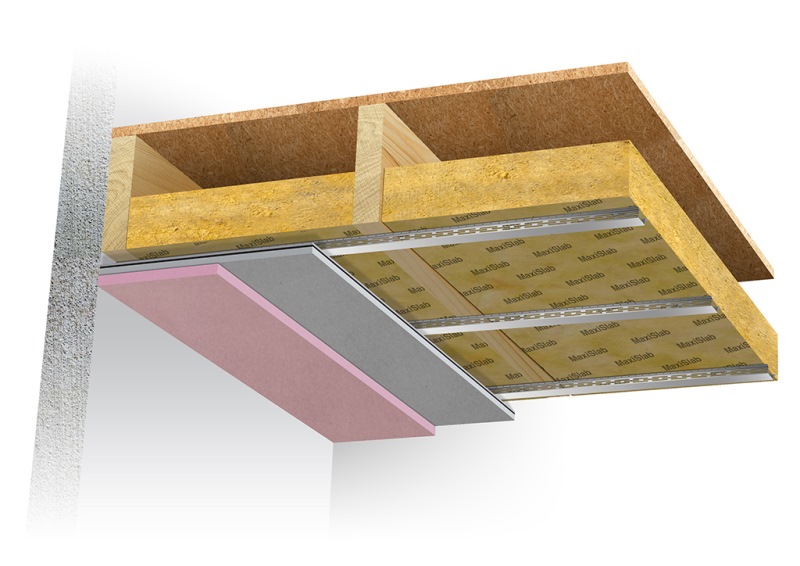 You can also soundproof your garage ceiling with Maxiboard for ceilings, with the resilient bars that support the Maxiboard simply fixed to the underside of the roof/floor structure over the garage. Maxiboard for ceilings is easy to decorate and finish, making your garage a great place in which to relax or work. For even better noise reduction and soundproofing, you can use SRS's Acoustilay on the garage floor to cut noise from musical instruments, washing machines or other equipment.
For a thorough approach to noise reduction and soundproofing in your garage, you should also consider the quality of acoustics. Do you have lots of hard, reflective surfaces with little absorption? This can lead to reverberation and an increase in background noise. SRS's Sonata Aurio absorbent panels can help. Sonata Aurio acoustic panels help walls, ceilings or atria absorb noise. They're also an attractive addition to your garage. Just choose the colour that complements your decor.
High-performance sound-insulation products
SRS is the leading independent manufacturer of high-performance sound-insulation products in the UK, with over 25 years of experience. We've developed Maxiboard for walls with rigorous testing and research. It offers the highest level of soundproofing performance and is part of a wide range of soundproofing products we've developed to work in a wide range of applications. At SRS, we always offer free, understandable advice from qualified and experienced experts.