Ceiling Soundproofing
Ceiling soundproofing
There are many reasons you for soundproofing ceilings – perhaps you play music at home and want to stop annoying the neighbours, you have a workshop or perhaps you run a nightclub. Whatever your reasons for soundproofing your ceiling, there are certain things to bear in mind.
The first step in soundproofing your ceiling is to work out the type of construction you have. Usually, it'll be either timber-joisted or some kind of concrete system. Next, you'll want to ask yourself what kind of soundproofing issue you have. It could be an impact-noise problem – which could be footsteps or dropped items – or an airborne problem generated by music, speech or a loud TV. Perhaps it's a combination of both. Finally, is your ceiling in domestic or commercial premises? Armed with this basic information, you'll get the best soundproofing advice for your ceiling from the acoustics experts at Sound Reduction Systems (SRS).
Soundproofing ceilings – the issues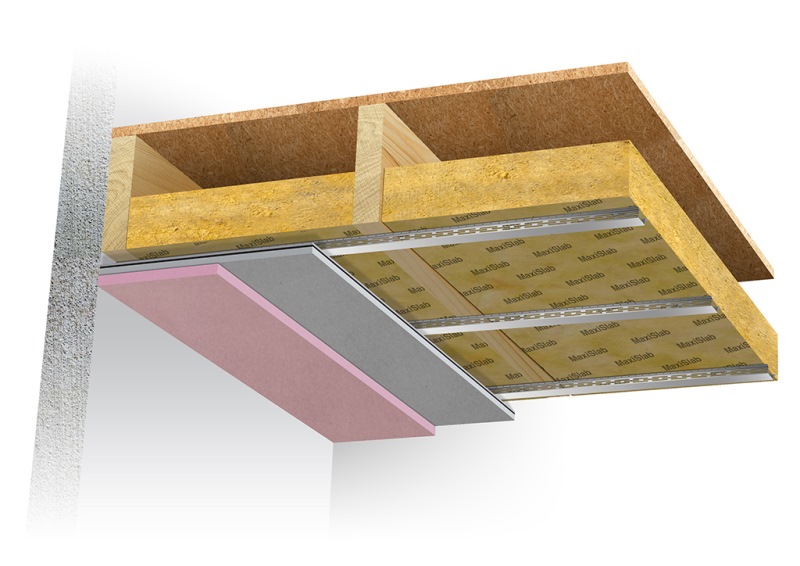 Now, at this point, you're probably worried that soundproofing your ceilings will involve losing some room height, especially if your home or premises is fairly new and has a low ceiling anyway. Luckily, at SRS, our ceiling soundproofing materials are not only acclaimed for their performance but also for their ease of installation and lack of disruption. For example, Maxiboard, an acoustic building board, is a perfect replacement for plasterboard on ceilings that need increased sound insulation. At just 6cms proud of the ceiling, it's the perfect space-saving soundproofing system.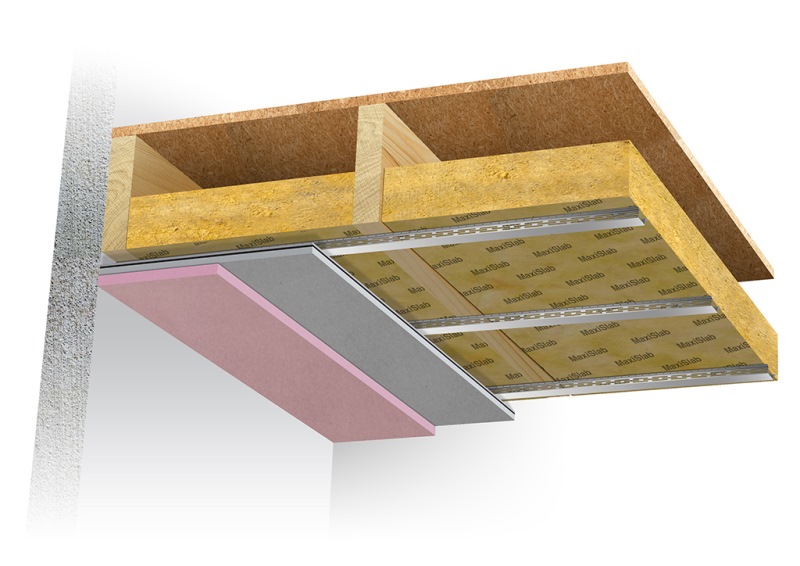 Maxiboard achieves great results for soundproofing both timber-joisted and concrete ceilings in every type of property, as it provides extremely high acoustic performance. Maxiboard is usually applied to the ceiling using resilient bars, which we supply. These bars help create a 'floating' ceiling. To ensure we provide a full service, we also supply acoustic mastics and sealants.
Durable soundproofing for ceilings
If you use SRS products when soundproofing your ceiling, you'll achieve very high acoustic performance with minimal loss of room height. They're also very durable and easily installed and perfect for almost all ceiling types.
At SRS, we're acoustics experts with more than 25 years in the acoustic supply industry. We can soundproof virtually any type of ceiling. What's more, you can get free expert advice on soundproofing ceilings or any other internal space, just by calling 01204 380074 or emailing info@soundreduction.co.uk