If you've got noise coming from the room or property above, it can drive you mad and seriously affect your quality of life, particularly if you live in an apartment.
But soundproofing for ceilings might not be as difficult or expensive as you think. Soundproofing experts Sound Reduction Systems Ltd (SRS) have a range of acoustic ceiling treatments that you can use to upgrade the acoustic insulation of your ceiling.
High-performance ceiling soundproofing remedy
All of these ceiling soundproofing solutions involve the installation of our extremely high-performance acoustic building board, Maxiboard. However, the best way to install Maxiboard will depend on your existing floor/ceiling construction.
For timber joisted floor constructions where the ceiling has been removed we recommend our Maxi 60 Ceiling Specification. This consists of 100mm thick Maxi Slab in between the joists, Maxi resilient bars at 300mm centres perpendicular to the joists, a layer of Maxiboard and a layer of 12.5mm fire-rated plasterboard. Maxi 60 offers maximum acoustic performance whilst keeping the loss of floor to ceiling height down. The Maxi 60 Ceiling is fully compliant with Part E of the Building Regulations and offers a fire rating of 60 minutes.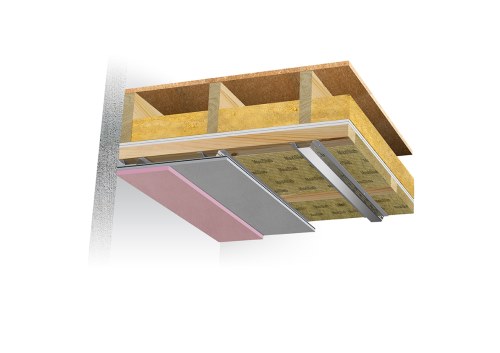 For timber joisted floor constructions where the ceiling is to be retained we would recommend our Maxi Dropped Ceiling System. This is very similar in its make-up to the Maxi 60 ceiling but requires the addition of 50mm by 50mm timber battens to the ceiling prior to the installation of the resilient bars.
Full installation guidance can be found using the links below.
Can't find your construction here?
If you can't find your particular construction listed here, or have a more bespoke or specialised construction, do not worry. SRS Ltd are especially experienced in advising on these type of 'bespoke' applications – just send an email to one of our technical team detailing your particular situation and we will send you a bespoke specification – alternatively, feel free to give us a call to talk it through, Email: info@soundreduction.co.uk; Tel: 01204 380074.
Disclaimer:
Please note that acoustic problems can have many different causes. We have highlighted the most common, based on over 30 years experience in the industry, but it always best to talk to an advisor before purchase.