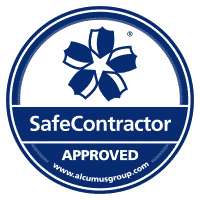 Leading acoustic insulation systems manufacturer and supplier Sound Reduction Systems has been awarded the highly respected Alcumus SafeContractor accreditation in recognition of its Sonata installation team's health and safety excellence.
As a major nationwide installer of products for improving acoustics within schools and other public and commercial buildings, Sound Reduction Systems is highly experienced in ensuring its installation teams adopt the safest working practices in all its new build and refurbishment projects. The team works extensively with the education sector, in particular, given how its Sonata sound absorption panels range provides the ideal solution for improving acoustics in school halls and classrooms, which often have high ceilings.
By receiving SafeContractor status, SRS now offers independently assessed assurance under a leading third party accreditation scheme which recognises the highest standards in health and safety management amongst UK contractors.
Training and development underpins health and safety excellence throughout SRS. All its Sonata installers regularly undertake training to ensure they are fully up to speed and minimise risks when working in what is still one of the most dangerous sectors. This includes maintaining an Asbestos Awareness Certificate and PASMA Certificate and Card to stay safe when working on access towers at height.
Alex Docherty, Director at Sound Reduction Systems says: "As a specialist sub-contractor working on a diverse range of sound improvement projects across the UK, we know how important it is for our clients to have complete confidence that their supply chain partners are 100% committed to the health and safety of people, customers and our environment. That's why SafeContractor accreditation is so important, allowing us to show that we adopt good risk management and have the processes and resources in place to achieve uniform standards across everything Sonata installation."
SafeContractor is a highly respected scheme utilised by organisations ranging from SMEs to FTSE100 organisations, including Unilever, Debenhams, Virgin Trains and Vodafone. To achieve SafeContractor accreditation, a company must provide an auditor with detailed and evidence-backed health and safety practices. Following their assessment, they will either award a company with the accreditation or work with them in order to ensure they can meet the standards in future.
In addition to its Sonata range, SRS manufactures and supplies a market-leading range of acoustic insulation products for soundproofing floors, walls and ceilings, including the original proprietary flooring underlay system, Acoustilay, one of the most imitated products in the market, and Maxiboard, a patented composite building board that offers excellent acoustic performance when used on walls, partitions, and ceilings. As well as its standard ranges, SRS's expertise ensures it can accommodate out of the ordinary applications too, with specialist bespoke design capability for acoustic products.
In parallel to its health and safety focus, the SRS team is committed to technical excellence too. Every member of its technical department is all full member of the Institute of Acoustics, meaning they can authoritatively advise on any acoustic problem, and has expertise in meeting Building Regulations Part E (Dwelling-houses and rooms for residential purposes), Building Bulletin 93 (Schools), and the Department of Health's Technical Design Manual (Healthcare).
Find out more at www.soundreduction.co.uk or call 01204 380074.