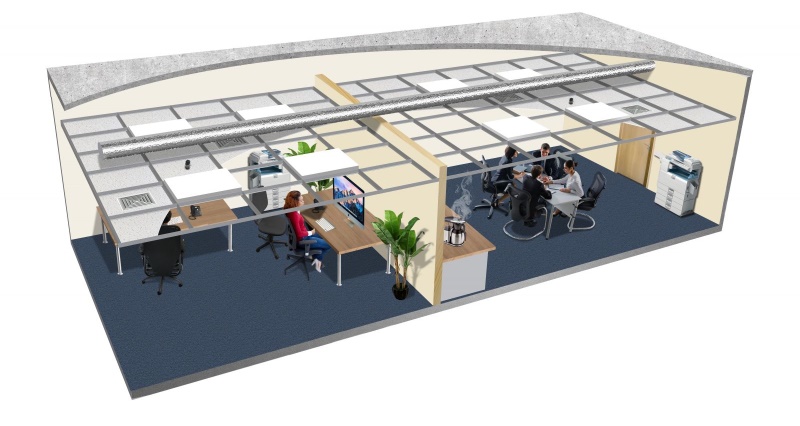 The Soundblocker range of acoustic insulation panels provides an effective solution for architects, interior designers and building owners seeking to optimise the use of partitioned working spaces, such as offices and interview rooms, by tackling privacy issues, 'cross-talk' and complaints about noise interruptions.
Whilst glazed partitions, in particular, have enabled organisations to create enclosed and private working and meeting spaces, whilst at the same time keeping workforces visually connected in larger office buildings, acoustic issues are often not fully addressed. This is particularly so for offices that feature suspended ceilings, where the effectiveness of even the most advanced acoustic control glazing or partition boards can be seriously compromised.
Soundblocker, from Sound Reduction Systems, works by providing a layer of acoustic insulation above the suspended ceiling boards within the ceiling void. The panels or tiles are easy and safe to install within new or existing suspended ceilings and offer four levels of insulation depending on the application to reduce the noise transfer between a partitioned room and adjoining rooms.
The Soundblocker Office and Classroom Range (Soundblocker 16) is ideal for a standard office where it reduces cross-talk through the ceiling to an acceptable standard for non-private areas. The sound insulating capabilities of Soundblocker 16 can play a key role in helping office owners and facilities managers to deliver more productive working environments, where employees are more engaged and feel that they can work in private when necessary.
Where greater privacy is required, enhanced acoustic insulation is achieved through the Soundblocker Private Office Range (Soundblocker 19) and Soundblocker Confidentiality Range (Soundblocker 25). Both ranges are recommended where high levels of room to room sound insulation are required, such as boardrooms and police interview rooms. The Soundblocker Confidentiality Range can also be used in applications where high levels of noise break-in/out need to be reduced, such as industrial environments.
And for the highest level of sound insulation in ceiling voids, the Soundblocker Entertainment Range (Soundblocker Plus) is capable of reducing high noise levels through floors and the breakout of environmental noise through roofs.
Alex Docherty, Director of Sound Reduction Systems, said: "The breakout of sound via suspended ceiling voids can be such a problem that it renders some partitioned offices and meeting rooms useless, particularly where privacy or confidentiality is vital. The same issue can hamper the quietness of partitioned rooms too, with noise transfer from surrounding offices and communal areas causing a nuisance.
"That's why we developed the Soundblocker range. Trends such as co-working, which have enabled building owners to rethink how soundproofing offices can be utilised for maximum value, requires an effective solution to noise concerns. So, with a choice of four different Soundblocker tiles, we have made it easy to achieve enhanced sound insulation where partitions are used to best suit the type of space."
Full details about Soundblocker can be found at www.soundreduction.co.uk, including a brochure download and supporting CAD and BIM files.
To find out more call 01204 380074 or email info@soundreduction.co.uk.