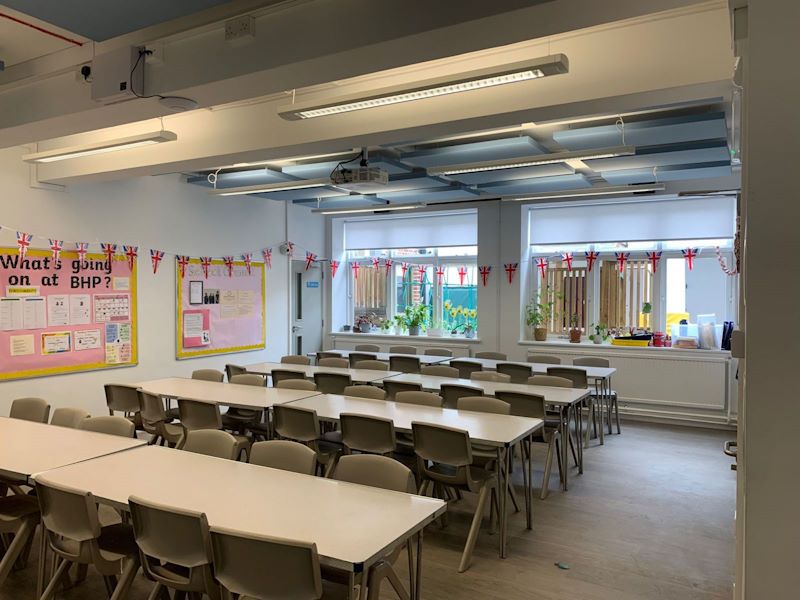 Burlington House School has three campuses across Fulham and Hammersmith, London. It is an independent specialist day school for children and young people with dyslexia, dyscalculia and associated SpLDs. Welcoming pupils aged 7-13 years into the Prep School, ages 13-16 years into the Senior School, and 16+ years old into the Sixth Form, the school believes that every child can achieve by providing the right support and encouragement.
However, poor acoustics within the dining room at the Prep School site was causing issues for children and staff alike. After some research into acoustic companies, site Caretaker Simone de Santo called soundproofing and sound absorption experts, Sound reduction Systems Ltd (SRS), to see if they could offer a solution to the problem.
After sending a member of their technical team to site to gather vital information and measurements, SRS were able to provide the school with a detailed report containing data on the before and after performance of the room, a layout design for the acoustic panels, a quotation for the work and testimonials from similar projects.
After being instructed to proceed with the treatment SRS were able to attend site within 2 weeks from order and needed only a day to fit the Sonata Vario panels. Following the installation, Romilly Wyatt from the school commented:
"The Sonata acoustic panels have made a big difference to the noise levels so thank you!"
If you have a noise issue in your school hall, village hall, or in any large, open area, please get in touch to see how SRS can help with soundproofing and sound absorption. You can fill in our simple 3 Step Estimator form by clicking here. The 3 Step Estimator works within your mobile device, so you can upload the pictures and information directly from site if required. Alternatively, you can just email or whatsapp us with the room dimensions and a few pictures of the ceiling and walls in the room.
Useful links:
Burlington LinkedIn: https://uk.linkedin.com/company/burlington-house-school
Burlington Facebook: https://www.facebook.com/BurlingtonHouseSchool/
Burlington Twitter: https://twitter.com/Burlington_HS/status/1128574964213407744