Excessive noise and poor speech intelligibility within village halls in England could become a thing of the past thanks to the launch of a new £3m government fund which enables trustees to apply for grants to upgrade their facilities.
The Village Halls Improvement Grant Fund is issuing awards for up to 20 percent of improvement costs, with a minimum grant of £10,000 and a maximum grant of £75,000 available. Applications, which are being administered by the rural community support charity, Acre, will need to be finalised by the end of March 2020, unless the fund is fully committed sooner. Click here for full details on the scheme.
The England-only funding is designed to help trustees and those responsible for managing and maintaining village halls to undertake significant improvement work in order to make their facilities useable, safe and practical for today's wide variety of community activities. This can include improving the acoustics, which is often poor in village halls due to excessive sound reverberation resulting from hard wooden floors, surfaces, and furniture, solid walls – combined with very limited soft materials such as furnishings.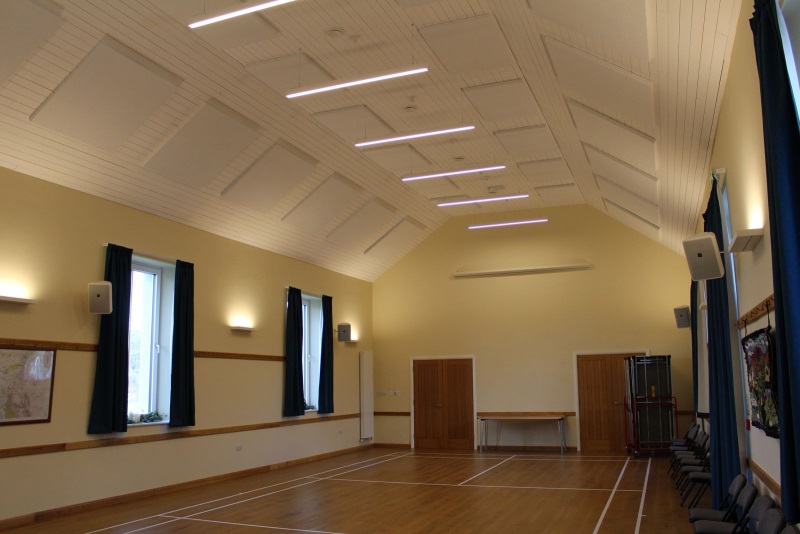 Sound Reduction Systems, who have worked with numerous village hall trustees across the UK to improve the acoustics within buildings, is ideally placed to help anyone interested in making sound improvements as part of their upgrade programme. A range of solutions is available to reduce reverberation, which often leads to reduced speech intelligibility and impacts very negatively on the user experience.
The company's Sonata range of Class A, mineral fibre free sound absorption products hold the key to improving acoustics. Its most popular acoustic absorption products for use for soundproofing walls and soundproofing ceilings are the Sonata Vario and Sonata Aurio acoustic panels. Sonata Aurio Acoustic Panels are simply bonded to wall and ceiling surfaces, whilst the Sonata Vario acoustic panel can be suspended using proprietary fixings and wall mounting brackets.
Sound Reduction Systems offers village hall trustees a quick, free estimate and specification with its online 3-Step-Estimator – visit www.soundreduction.co.uk to use this tool or find out more.