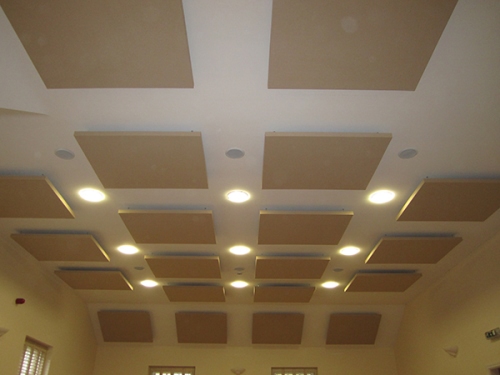 Acoustic absorption experts Sound Reduction Systems Ltd (SRS) have successfully completed installation of their top of the range Sonata Vario acoustic panels at Sutton Under Whitestonecliffe Village hall in North Yorkshire.
Like many village halls, Sutton Village Hall provides an invaluable multi-use space for the local community and hosts activities such as parties, meetings, and classes.
However, during the use of the hall excessive reverberation caused by hard, acoustically reflective surfaces was causing problems with speech and badly effecting people with hearing aids.
After deciding enough was enough the village hall committee approached SRS's industry leading technical department for advice on how to solve the reverberation problems using Sonata acoustic absorption products.
SRS Managing Director Alex Docherty received the enquiry and quickly arranged for an SRS technical representative to visit the hall and carry out a site survey. Using the information collected, including room dimensions and details of surface finishes, SRS were then able to provide a detailed specification, including calculations of reverberation time and the predicted level of improvement that SRS's Class A acoustic absorbers would offer.
Despite competition from a number of other companies, the village hall committee decided to go with SRS and the suggested panels were installed with the minimum of fuss, taking only one day.
Dr. Gill Wight, Chairman of Sutton Village Hall Committee commented: "I have waited until after our Celebration Lunch to thank you. The lunch was to be the acid test of its success as it has been events like these, where a lot of people are talking at once, that have created problems in the past. I am delighted to say that the system has passed with flying colours; the difference on Sunday was dramatic and hugely appreciated.Thank you, we are all extremely grateful."
In total 24no 1200x1000x50mm Sonata Vario panels were installed to the ceiling of Sutton Hall. Calculations showed this absorptive area reduced the mid-frequency reverberation time (Tmf) from 3.1s to 1.2s - much more appropriate for the intended uses of the hall.
SRS have successfully treated many buildings with reverberation problems including community, church and school halls. They have a great deal of experience in the acoustics of these type of buildings and offer a complete service from initial acoustic report and quote to layout design and install.
If you have a noisy village hall, and would like advice on how SRS's high performance acoustic products can help with sound absorption or soundproofing, please give us a call 01204 380074 or fill in the simple "3 Step Estimator" form here: