Improved Acoustics at Rudford & Highleadon Village Hall
Sound absorption specialists, Sound Reduction Systems Ltd (SRS), were first contacted by Rudford and Highleadon Village Hall in September 2015 with a view to solving the acoustic problems in their building. The Chair of the Hall Management Committee commented:
The building was opened in 2011 and is being well used but the acoustics are causing some difficulties especially for some of our older users. As a retired Teacher of the Deaf I can see that we have significant reverberation issues, similar to those in an old-style school hall!
As with so many village and school halls, the surface finishes were all hard and acoustically reflective, and whilst practical for all of the activities that take place within, they are not conducive to good acoustics.
SRS offer free consultations, reports and quotes for reverberation issues in any type of building. To get started, the SRS Technical Department requested some basic bits of information about the hall – mainly measurements, surface finish details and some pictures (which can all be submitted online here). From this information, the SRS Technical team were able to acoustically model the space, using specialist, in-house software, to predict how the room was currently performing. Being able to calculate the current acoustic performance of the room allows SRS to predict quickly and accurately how many of their Sonata absorbers are required to solve the problem.
A complete report, including before and after graphs of performance and quotations was sent through to the Chair to discuss with the rest of the committee. After their discussions, they came back to SRS to ask if they could supply details of any jobs in their area that they could visit. SRS were happy to provide details for them, and after visiting a previous Sonata installation, and securing some grant funding, they were ready to place their order.
A Total of 27 suspended Sonata Vario panels were specified and installed within a day. The committee chose White panels for the ceiling and Lime coloured panels for the wall, to complement the existing décor. After the installation the Chair commented:
We were delighted with the installation of the Sonata panels at the hall on Tuesday and are already receiving positive feedback about the difference they're making.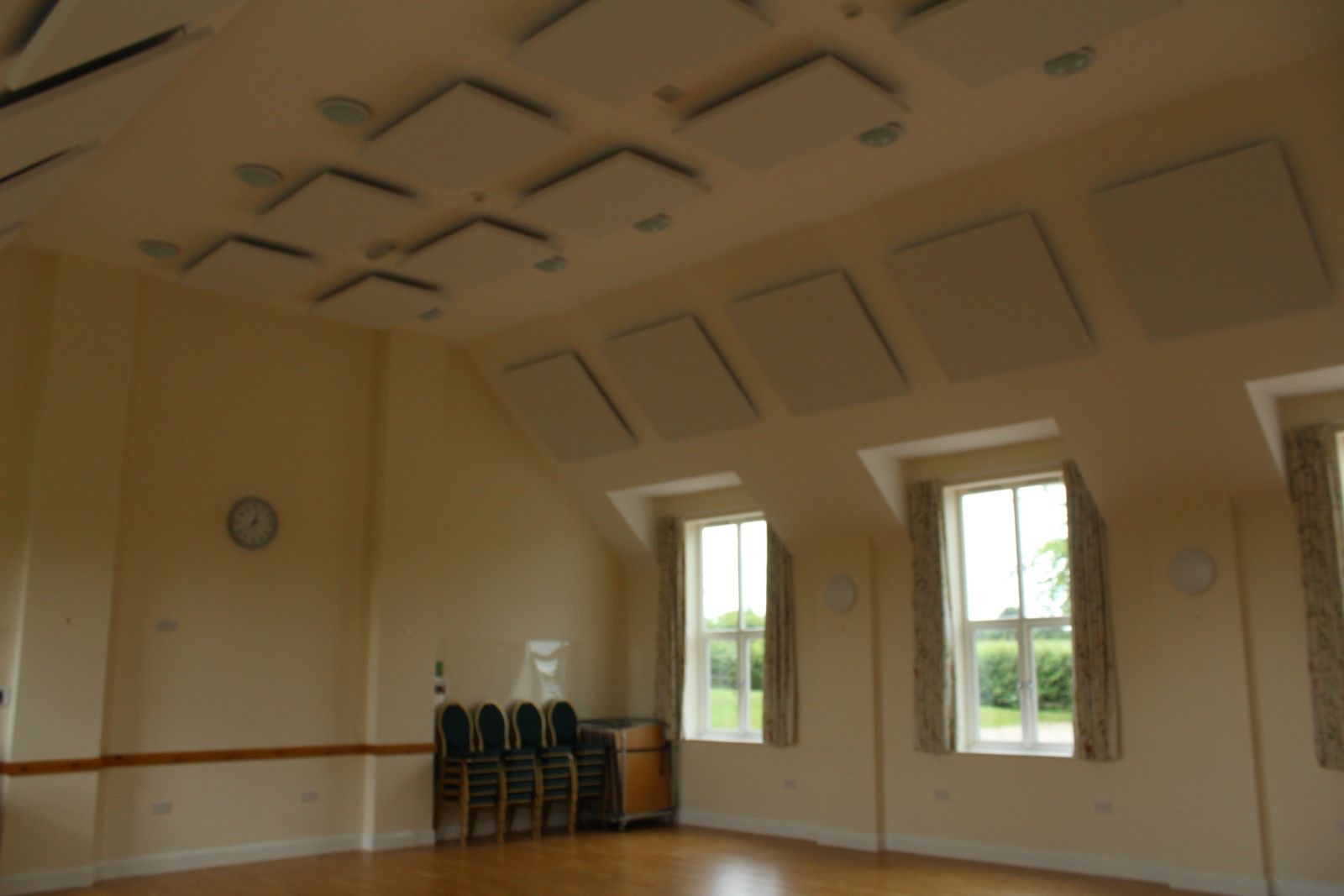 If you have a noisy hall that is affecting the experiences of the various groups that use the space, please contact Sound Reduction Systems Ltd for a free, no obligation report.
You can fill in the form with the details of your hall online here – or, alternatively, give us a call on 01204 380074 or email info@soundreduction.co.uk with your enquiry about soundproofing and sound absorption – we'll be happy to help.