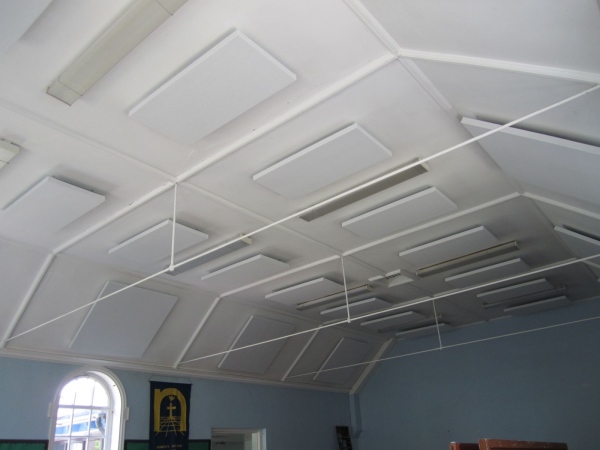 Like many church and community halls the hall at Marton Methodist Church near Middlesbrough suffered from excessive noise and reverberation during use. The large number of hard, reflective surfaces, and the lack of acoustically absorbent finishes, within the hall meant that noise from speech and activity persisted considerably.
On receiving the enquiry, SRS Director Richard Sherwood MIOA visited the hall to carry out a detailed site survey, collecting the necessary information to provide accurate recommendations and a quote.
Richard commented: "My calculations predicted that the overall reverberation time (T60) within the hall was around 2.6s, and that it was especially high within the speech frequencies, in some cases exceeding 3s. Once I had established this starting point I was then able to factor in acoustic data that we have for our Sonata Aurio acoustic panels to determine the absorptive area required"
Following Richard's recommendations, just over 23m2 of SRS's Class A Sonata Vario suspended acoustic panels were installed to the ceiling within the hall. Both 1200x1200mm and 1200x600mm Sonata Vario panels were used to work around existing light fittings and fit neatly within the ceiling beams. Installation was carried out quickly and professionally by SRS's expert fitter in less than a day.
Brian Glover, who oversaw the installation of the Sonata Vario panels on behalf of the Methodist Church comments: "All the feedback from church has been very positive. We have had new room rentals since the work was done and the comments were that the hall is an excellent space for training presentations because there are no echoes."
If your church or village hall suffers from excessive reverberation SRS would be happy to offer some free advice. For information please see our website www.soundreduction.co.uk email us at info@soundreduction.co.uk or alternatively, to speak to a human being, give us a call on 01204 380074 and we will be happy to help.
In many cases a site survey may not be required to give a budget estimate of the costs involved. Submit the details below for a quick quote.