"What a difference!"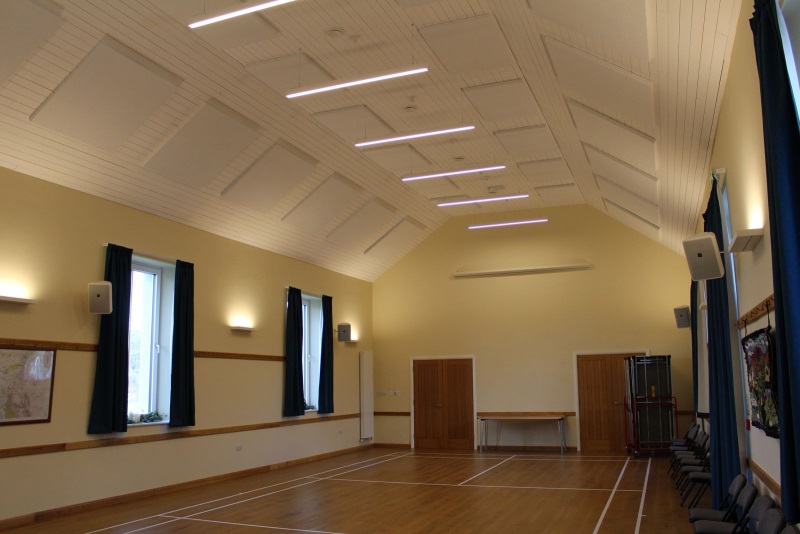 Bassenthwaite Parish Room is situated amongst the dramatic scenery of the Northern Lakes, nestled at the foot of Skiddaw. However, despite the beauty of its surroundings, users of the new hall had found that the poor acoustics were affecting their enjoyment of the local facility. The committee decided to approach acoustic specialists, Sound Reduction Systems (SRS), to see what could be done about the excessive reverberation and echo within the room.
Upon receiving details of the hall, such as the dimensions, surface finishes and pictures of the ceiling / walls, SRS were able to input this data into their Sonata acoustic modelling software. This facility allows SRS to accurately predict the existing acoustic performance of the room, and specify exactly how much material is required to solve the issue.
The Bassenthwaite Parish Room committee were then presented with a report detailing before and after performance and quotes for the treatment. Once this had been approved, the next step was to visit site to take detailed measurements and confirm the quote.
SRS were instructed to proceed and were able to install the decorative Sonata Acoustic panels within 2 weeks from order. Following the installation, and a trial period over a busy weekend, Chair, Gill Forsyth, commented:
"What a difference!
Yoga class whilst lying on their backs said, aesthetically, it was such an improvement.
Stepping up a notch, set-up for the Christmas Fayre lots of banging and crashing people didn't need to raise their voices to hear each other.
Day of the Fayre lots of people, much talking and again voices didn't need to escalate as they could hear each other, and gentle Christmas tunes were easily heard in the background.
Scottish Dancing - The teacher has a gentle voice, she was easily heard.
You have been a pleasure to work with"
If you have a noise issue in your village hall, or in any large, open area, please get in touch to see how SRS can help with soundproofing and sound absorption. You can email info@soundreduction.co.uk or call 01204 380074 or fill in the simple 3 Step Estimator form online for your FREE report and quote: https://www.soundreduction.co.uk/3se/