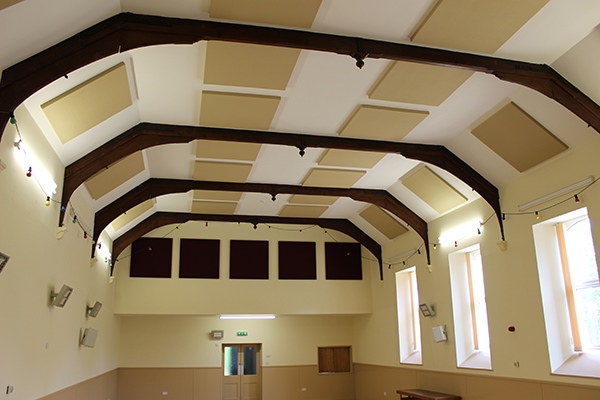 Acoustic absorption specialists Sound Reduction Systems Ltd (SRS), have recently completed remedial acoustic works at a community hall in Knockando. The Margach Hall was built in 1910 by Peter Margach and gifted to the Knockando Community. The hall currently hosts badminton, WRI, local clubs, dances, funeral teas, association and club meetings.
When the excess noise and reverberation at the hall proved too much, it was decided that something had to be done to improve the acoustic environment for all of its users. After an internet search, Chairman, Alastair Anderson, came across SRS' easy to fill in 3 step enquiry form on their website. Alasdair completed the form online with some simple details about the hall and submitted it to the technical department at SRS.
On receipt of the form, SRS were able to use their in house software to acoustically model the hall, and could see that with a predicted reverberation time of 4.5 seconds was far too high for a space of this nature. Alex Docherty from SRS specified a treatment using 57sqm of the decorative Class A rated Sonata Aurio absorbers installed on the ceiling and walls. Colours were selected to match the existing décor and the installation was completed within two days by SRS' specialist fitter. Upon completion, hall Chairman, Alasdair Anderson, commented:
"Many thanks for prompt and efficient service provided recently to our local hall which has now been transformed. The tiles look great and the improvement in acoustics is astounding."
SRS have successfully treated many community, church and school halls over the years, where these problems are common. They have a great deal of experience in the acoustics of these type of buildings and offer a complete service from initial acoustic report and quote to layout design and install.
If you have a noisy hall, and you would like a free, no obligation consultation and quote for soundproofing walls, ceilings or any other area of your building using acoustic panels, please call 01204 380074 or fill in the simple '3 Step Estimator' using the link below.