https://www.soundreduction.co.uk/advice/soundproofing-your-property-type/office-soundproofing/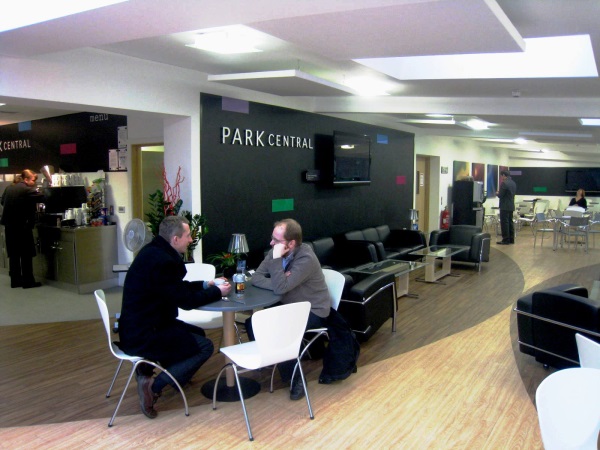 Park Central is, as the name suggests, the centrally located hub of the York Science Park's Innovation Centre.
This contemporary space is a multi-purpose area functioning as the YSP catering facility and a readily adaptive environment for meetings and conferencing. Good room acoustics are therefore not only desirable for the relaxation of diners, but essential for clear speech communication during meetings and conferences.
Park Central was marred by excessive reverberation stemming from the predominance of hard surfaces such as wooden floors, glazing and table tops. This all resulted in an acoustically difficult environment for the users and staff.
The client brief was to offer a proposal for treatment that not only addressed the reverberation problem, but most essentially one that gave due regard for the existing interior design and preferably where treatment would be to the ceiling only.
Sonata Vario absorbers were introduced to the free areas of the ceiling. The result was major improvement of the environment, giving crisp clarity of speech, reduced noise from cutlery and chairs, and generally a more pleasant and relaxing environment. The clean lines and high light reflectance of the Sonata Vario absorbers do appear to respect, even arguably enhance, the distinctive Park Central space.
Mr David Garside, Facilities Manger at the YSP comments:
"The project was a trouble free and painless experience and required very little effort on our part."
"Staff have commented on the difference without knowing how it was achieved …..thanks for a good job well done and quickly."
Sound Reduction Systems are specialists in all types of acoustic solutions including home and office soundproofing.