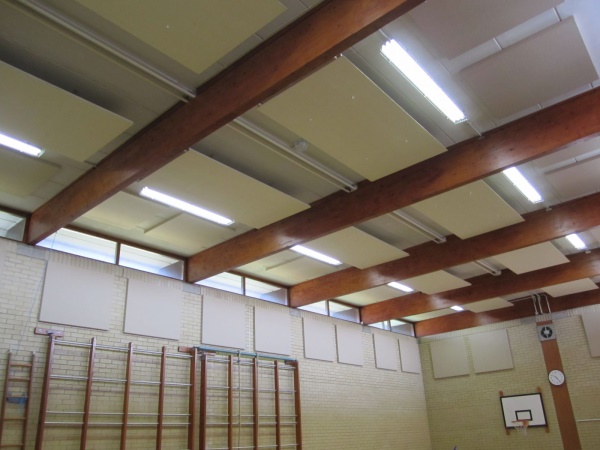 Watling View School in St Albans, Hertfordshire is a school for children and young people with severe learning difficulties. For many years the school sports hall had suffered from excessive reverberation and poor acoustic conditions.
After deciding enough was enough Watling View School approached acoustic experts Sound Reduction Systems to solve this problem.
Using information kindly provided by the school via the online 3 Step Estimator web form, SRS Director Alex Docherty was able to quickly and accurately model the acoustics with the sports hall and calculate the exact number of SRS's Class A Sonata acoustic panels required to reduce the reverberation.
Alex comments:
"Using information on the dimensions of the sports hall and the surface finishes present I was able to calculate that the average reverberation time within the hall was over 4.0s, with very poor acoustic balance within the speech frequencies. With the addition of 72m2 of our Sonata Aurio panels the model showed that the reverberation time was significantly reduced to 1.5s."
Despite competition from a number of rival companies SRS were chosen to carry out the work, not only because they were able to provide a competitively priced, high performance solution but also because of the speed at which they were able to service the enquiry.
Once interest was confirmed with the school SRS despatched a technical advisor to visit the school to ensure that the recommended number of panels would fit around wall and ceiling obstacles.
In total SRS supplied 20no 1200x1200mm Sonata Aurio panels to the ceiling and 30no 1200x1200mm Sonata Aurio panels at high level on the walls, to make up the necessary absorptive area. Installation was carried out in two days by our expert fitters, much to the customer's satisfaction.
The improvement in the acoustics within the hall was instantly noticeable to both staff and pupils alike. Site Manager Andy Woolford commented:
"We recently used Sound Reduction Systems to install a number of acoustic panels to our very high gym area. We are a special needs school in Hertfordshire and needed to dampen the echo of the gym by quite a bit and since doing that the lessons have been much more relaxed.
I was very impressed at not only the way the works were carried out efficiently but the understanding the installers had when booking the works in to be done in the school holidays.
We are now budgeting for our dining hall to have some panels added and will most definitely use Sound Reduction Systems again to carry out those works."
If your school hall or sports hall has a reverberation problem then please do not hesitate to get in touch from some free, expert advice. SRS can be contacted on 01204 380074, via email at info@soundreduction.co.uk or online via www.soundreduction.co.uk