Reduced Reverberation at Guiseley Methodist Church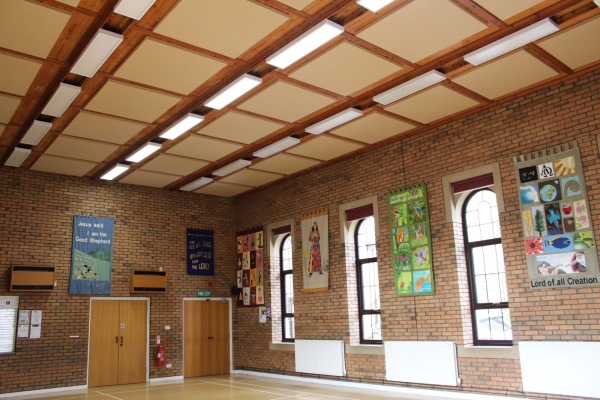 The main hall at Guiseley Methodist Church is a fantastic resource for the local community, catering to many different members and groups. However, one problem persisted – the poor acoustics of the space resulting from all the hard surfaces that were to be found within.
It was decided that action needed to be taken to ensure the comfort of all the various users of the hall. After researching online and seeing the detailed information on the SRS Ltd website, along with the archive of testimonials from satisfied customers with similar issues, they decided to contact the company and arrange for a free of charge site visit.
SRS offer FOC site visits to all school, village and church halls and a member of the technical department was despatched to meet with the committee, discuss option and gather the necessary information to prepare a detailed report and quotation for the committee to consider.
The information gathered was used to prepare an acoustic model of the hall, so that an accurate quantity of absorbers could be specified, and the detailed mapping of the ceiling allowed SRS to also provide a neat, symmetrical layout proposal.
Based on the report and recommendations from SRS, the committee authorised the installation of 50sqm of Class A Rated, decoratively wrapped Sonata Acoustic Panels absorbers on the ceiling. Following the treatment, Tony King, Chair of Property Committee at Guiseley Methodist Church, commented:
"I am writing to tell you how pleased we are with the sound absorbers. We have had several unsolicited positive comments from users of the hall, and it feels much more relaxed when the room is full. We were very impressed with the efficiency and cleanliness of the fitters and everyone is more than pleased with the appearance.
Thank you again. We are recommending you to anyone who asks."
If you have a noise issue in your village hall, or in any large, open area, please get in touch to see how SRS can help with soundproofing and sound absorption. You can email info@soundreduction.co.uk or call 01204 380074 or fill in the simple 3 Step Estimator form online for your FREE report and quote: https://www.soundreduction.co.uk/3se/