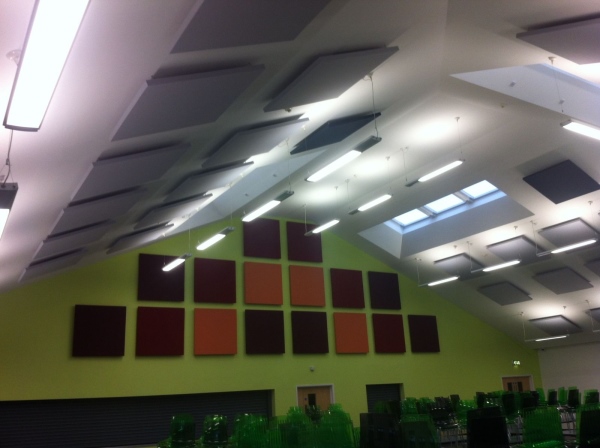 Sound Reduction Systems Ltd (SRS) has recently supplied and installed their Sonata Vario Class A Audio Absorbers within the dining hall at Hayfield School in Doncaster.
Excessive reverberation within the hall, caused primarily by the presence of a high number of acoustically reflective surfaces, meant that lunchtimes were far from peaceful for pupils and staff. Headteacher Maria Rock decided to take action and called SRS to arrange a free site survey and quotation under their "Acoustics for Schools" initiative.
SRS Director Richard Sherwood comments:
"On visiting the dining hall and speaking with Mrs Rock I was able to collect the information required to carry out the necessary calculations of reverberation time and determine the most practical way of reducing the noise using our Class A Sonata acoustic absorbers."
The school decided to make use of the variety of high quality Trilogy fabric colours that all SRS Sonata absorbers are available in. On the ceiling they opted for forty-one panels in 'Glacier' and four in 'Smoke' coloured fabric, all in 1200x1200mm Sonata Vario suspended panels. In addition to the ceiling suspended panels the school also went for six 'Cherry', six 'Wine' and four 'Paw Paw' Sonata Vario panels installed on brackets in a triangular configuration at high level on one of the walls.
In total 88m2 of SRS's Sonata Vario Class A Audio Absorbers was installed within the dining hall. Calculations showed that this quantity reduced the modelled mid-frequency reverberation time (Tmf) from 3.96s to 1.70s, and the overall reverberation time (T60 (125-3150Hz)) from 3.19s to 1.66s.
Headteacher Maria Rock comments:
"The work undertaken by Sound Reduction Systems has made an amazing difference for both students and staff. The quality of their service and level of professionalism was of the highest and more than any one could expect!"
SRS are specialists in school acoustics and offer free advice, site visits and quotes to any school with sound absorption problems. If your school has a noise problem, please get in touch on 01204 380074, email info@soundreduction.co.uk or visit the website www.soundreduction.co.uk