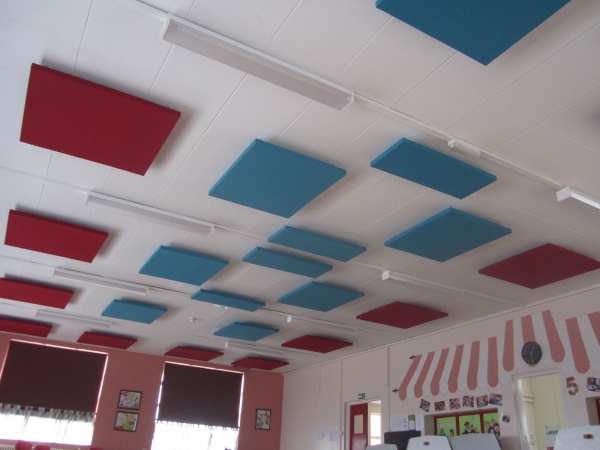 When Mrs Williams, Headteacher at Ysgol Bryn Coch Primary School, decided that the noise levels and reverberation in the large school canteen had to be dealt with, she contacted acoustic experts Sound reduction Systems (SRS) for their advice. Under the terms of their 'Acoustics For Schools' initiative, SRS offer all UK schools free advice, reports and quotes to treat their acoustic problems.
In the first instance, Mrs Williams was able to fill in the simple '3 Step Estimator' form with information such as room dimensions and surface finishes for soundproofing walls, floor and ceiling. This information allowed the SRS Technical Department to acoustically model the space using their in-house software. The software predicted a reverberation time of 2.7 seconds – essentially, far too high for a space of this nature.
The specified solution consisted of 35m2 of Sonata Vario acoustic absorbers suspended from the ceiling. The Sonata Vario panels comprise a high performance, Class O fire rated, acoustic foam wrapped in decorative fabric and are available in a variety of sizes and colours. The panels are suspended from the ceiling or walls on clips and brackets and can be easily removed and replaced for cleaning, decoration or maintenance ensuring a high performance, practical solution to sound absorption issues in schools. As is often the requirement, Mrs Williams needed to investigate a number of alternatives solutions, but ultimately decided to go with the Sonata panels. SRS Director Alex Docherty travelled to site to discuss options and finalise the measurements for the installation.
As part of the overall supply and fit service, it was essential that SRS were able to provide all the necessary paperwork to satisfy both the school and the local council, and site specific risk assessments and method statements were provided. SRS also increased their Public Liability insurance to £5m to ensure they met every criteria required.
The school decided they wanted the panels to provide a splash of colour within room, and opted for a mix of Cherry and Teal panels. SRS sent their specialist fitter to site during half term to cause the minimum of disruption to the school, and the job was completed in a day. After the installation, Mrs Williams commented:
"What a difference! The whole ambience of the canteen has improved. The children are enjoying eating their meals in a calm and bright environment. I am thrilled with the results."
SRS are specialists in school acoustics and offer free advice and site visits and quotes to any school with sound absorption problems. You can read project profiles and testimonials from satisfied schools on their website. If your school has a noise problem, please get in touch on 01204 380074, email info@soundreduction.co.uk or visit the website www.soundreduction.co.uk