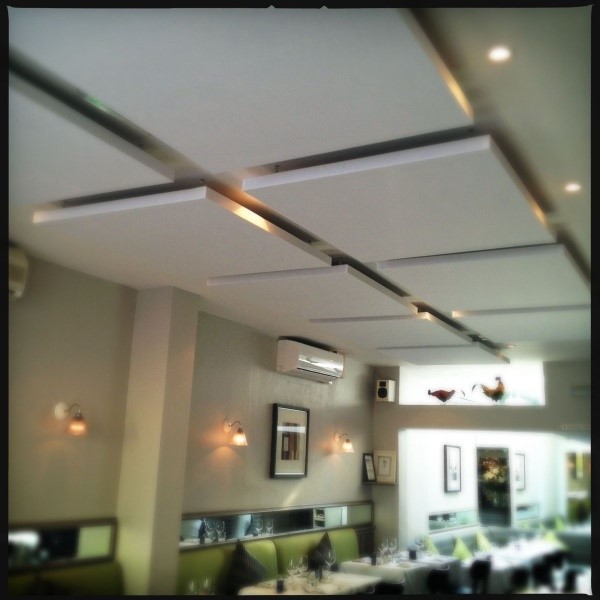 SRS were recently contacted by The French Table restaurant with a view to improving the acoustics of their busy dining room.
The French table is a highly regarded and popular restaurant in Surrey, which has received many accolades for its food since it opened in 2001, not least 'Best London Restaurant' in the 2010 Good Food Guide. Their stylish interior and customer service create the perfect environment to dine, however, the acoustics of the dining room needed to be addressed to make the experience perfect.
As with a lot of restaurants, the dining room contained many harsh, acoustically reflective surfaces. As the restaurant started to fill up, the excessive echo and reverberation would create more noise than the staff or the customers would have liked.
SRS Director Alex Docherty travelled to site to measure up the space with a view to submitting a report, costs and a layout design aimed at solving the acoustic problem. The French table were presented with two options to look at – a premium performance option using suspended Sonata Vario absorbers and a high performance option using Sonata Aurio bonded absorbers, to be installed on the ceiling. Both products offer Class A Sound absorption and comprise a decorative fabric wrapped around a Class O fire rated acoustic foam. They are available in a variety of sizes and colours – The French Table chose a white option to blend in with their existing décor.
SRS sent their specialist Sonata installer to site within two weeks from order, at a time to suit the busy restaurant, to fit the panels. After a busy weekend service under their new panels, Husband and wife team Eric (Chef) and Sarah (Front of House) commented:
"We are so pleased with our new soundproofing. SRS provided a great service and a quality job - It was very easy to fit and for little disruption such an amazing result! Customers are commenting without being prompted on the improvement and we only regret we did not do it sooner. Many, many thanks"
The French Table were so pleased with the result in their dining room that they are now considering a Sonata treatment for their bar area.
To experience the new and improved ambience yourselves and enjoy the fantastic French cuisine on offer, please feel free book your table by emailing enquiries@thefrenchtable.co.uk or visit their website at www.thefrenchtable.co.uk
SRS are experts in all areas of sound absorption and sound insulation including soundproofing for walls, ceilings and floors. If you have any acoustic problem at all, please get in touch with their industry leading technical team for free, professional advice – Tel: 01204 380074 email: info@soundreduction.co.uk or visit the website www.soundreduction.co.uk